'Operation Finale' revisits the capture of Eichmann
Category:
Movies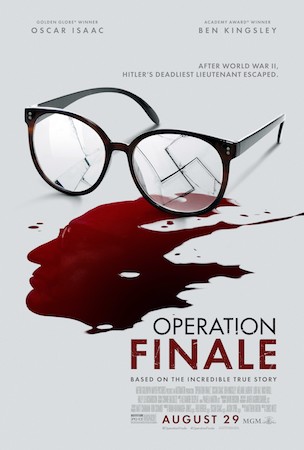 After the end of World War II, many Nazis moved to Argentina where they evaded capture. Adolf Eichmann was one of the higher-ranking Nazis who moved to South America and made a good life for himself and his family, after all the horrors he caused under Adolf Hitler. Operation Finale looks at the capture of this man who was in charge of the Final Solution for the Third Reich.
Oscar Isaac, Ben Kingsley, Mélanie Laurent, Lior Raz, Nick Kroll, Michael Aronov, Haley Lu Richardson, Joe Alwyn, Torben Liebrecht, Ohad Knoller, Michael Benjamin Hernandez, Greta Scacchi, Pêpê Rapazote, and Peter Strauss star in this tense and intense story of the Israeli's ingenious plan capture Eichmann and bring him safely back to Israel for trial. The mission was fraught with danger but was ultimately a great success.
Screenwriter Matthew Orton researched the incident thoroughly to bring to life the people who were involved in the mission. He said about the group of agents, "while desperately trying to move on with their lives [they] were still wrangling with the ghosts of their pasts," as visions and memories of the murder of six million Jews were still vivid in their minds and to audience members as the team and Eichmann flash back on memories of the war.
Orton acknowledged that he did take creative liberties with the timeline and some of the characters, but wanted to make the film reflect what everyone went through in this highly intense period. Producer Brian Kavanaugh-Jones said, "It's a story about justice, about good versus evil, a cat-and-mouse game and a tension-filled spy thriller, all wrapped up into one. You have all these spies and Mossad agents going undercover to track a real criminal and all the pitfalls they encounter. It felt very real and was all the more exciting because it was true. It's pretty rare to find a script this meaningful and powerful wrapped around such a thrilling true-life event," adds Kavanaugh-Jones.
The year was 1960. Israel was very young and the memories of WW II were still vivid in the minds of people around the world. But it wasn't until Eichmann's trial when the world woke up and realized exactly what he and his fellow Nazis did and how many people they murdered and tortured.
"There are so many takeaways from Operation Finale," contends producer Fred Berger. "It's about the effects of the Holocaust, which should never be forgotten. But it also illuminates a different chapter, an untold story that most people don't know about in a totally captivating manner. And it demonstrates that, while it would have been easier to take vengeance on Eichmann, bringing him to justice was more important, more consequential, more cathartic." Killing him in Argentina, once there was proof he was the real Eichmann, would have been preferable to many people, but the Israeli's wanted to bring him to justice for the eyes of the world.
Operation Finale is a newer version of the 1979 film The House on Garibaldi Street. They both concentrate on the identification and capture of Eichmann, and his return to Israel, however in different ways. They are both good lessons in history and both provide windows into this chapter of history. They are essentially the same story however done in a different tone.
Kingsley portrays Eichmann. While it's hard to dislike Ben Kingsley, his acting makes it impossible not to be abhorrent about the man he portrays – Eichmann. It's also eye-opening how the Argentine powers-that-be were complicit in hiding the Nazis and revving up the feelings of Hitler. The country definitely turned a blind eye to the war criminals. There was an effort to keep the Nazis together and their ideals alive.
Operation Finale opens in theaters August 29, 2018. It is rated PG-13 for disturbing thematic content and related violent images, and for some language.
About the Author
Francine Brokaw has been covering all aspects of the entertainment industry for over 25 years. She also writes about products and travel. She has been published in national and international newspapers and magazines as well as Internet websites. She has written her own book, Beyond the Red Carpet The World of Entertainment Journalists, from Sourced Media Books.
Follow her on Twitter